Asylum-seekers on Lesbos protest against EU's closed border
Comments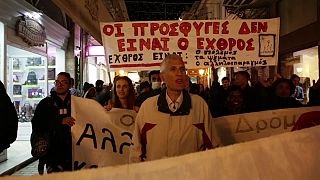 More than one thousand residents and asylum-seekers on the Greek island of Lesbos took to the streets on Tuesday night to protest the European Union's closed border policy.
The island of Lesbos has been the gateway to Europe for refugees coming from Asia and the Middle East trying to reach Western Europe.
But since the March agreement between the EU and Turkey, people who arrived on the islands after 20 March are sent back to Turkey,
As a result more than 500 people have been deported to Turkey, while more than 6,000 are stuck in Lesbos as they are slowly processed.
People also protested their treatment on the island – with some claiming they were the subject of racist attacks.