Lost in frustration: Lesbos at boiling point over refugee limbo
Comments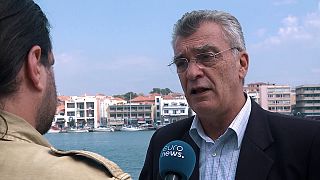 The EU-Turkey deal signed in March to stop the flow of refugees into Europe has turned the Greek island of Lesbos into a floating detention centre.
They want to leave, but they're trapped here

President of the local council in Moria, Lesbos
Some 6,000 migrants and refugees are now stranded there until their asylum claims have been processed. Most will likely not qualify, and face deportation back to Turkey.
Tensions with locals run high. Many have shown solidarity, but far-right activists are protesting loudly. Mayor of Lesbos Spyros Galinos says the island's residents feel abandoned – as if both Europe and the Greek government had dumped the refugee crisis on them.
"I have long noted the dangers that this (EU-Turkey) deal entails, as it's in essence caging people on the island, and this can't go on. There is already a great deal of unrest among refugees, but also among the local community, which is concerned. There are also extreme voices, that are trying to stir it all up. That's why we need de-congestion, as soon as possible – immediately, I would say," Galinos told Euronews.
Some 5,000 refugees and migrants live crammed on the island's largest refugee camp, in Moria – around twice its capacity.
The United Nations' Refugee Agency has praised the Greeks' efforts.
"In Greece we still see a high level of hospitality and understanding for the situation of refugees. Maybe because many Greeks remember they themselves or their ancestors have been refugees," said UNHCR Greece spokesman Roland Schönbauer.
"We have seen humankind in all of its perspectives." – Thanassis Marmarinos, fisherman & #NobelPeacePrize nomineehttps://t.co/Vhr7jgjgvB

— Rachel Dewan (@racheldewan) October 7, 2016
But both inside and outside the Moria camp, many are running out of patience. Last month, it had to be evacuated because of a fire, which some say was set intentionally. Previous fires have devoured centuries-old olive trees in nearby properties.
"We have embraced all refugees, all of them," said Nikos Trakellis, the president of the local council. "But these people came here to improve their lives. They want to leave, but they're trapped here. There is unrest among the local community, where will this all lead? This has to stop."
Stavros Myrogiannis, who manages the nearby Kara Tepe camp for families and vulnerable refugees, chimed in: "We are enraged by the fact that some people have decided to drop 6,000 people in Lesbos, 3,000 in Samos, 3,000 in Chios and leave them there. This is no warehouse of souls, and nobody has the right to turn Greece and Lesbos into one. We, be it the locals or the local government, will never let this happen."
Blackdoor exit out of #camp#Moria on #Lesvos#Greece. Most #Refugees can move, but say: they treat us like animals pic.twitter.com/neXo6TCEzX

— Christian Unger (@KryzUnger) September 23, 2016
Across Lesbos, locals have staged protests and scuffles have erupted, with members of the Greek ultra-right wing party Golden Dawn said to be involved.
"Even we, journalists, are experiencing extreme situations. There have been attacks against our colleagues during a demo of Moria villagers, but also when the hot spot caught fire on September 19," said Anthi Pazianou, a local journalist.
In the port city of Mytilene, the capital of Lesbos, many say the island feels like a pressure cooker.
Our reporter on the ground, Panos Kitsikopoulos, said: "Mytilene residents are not rejecting their humanitarian duty. What they want is their island to be relieved from the serious strain it has been under for more than a year. But as they realize the central government is not taking action, their discontent is growing stronger — and so is the propaganda of a small, yet noisy, faction."
#refugees for multiple countries protest in city center against conditions and indefinite detention at #Moria#Lesbos#Greecepic.twitter.com/t9amunekGc

— Courtney Body (@courtneybody) September 24, 2016