Colombian government and FARC rebels' path to peace
Comments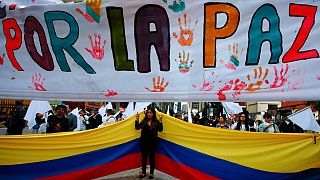 In September, and after four years of talks, members of the FARC rebel group unanimously agree to a peace deal with the government of Colombia.
FARC's chief negotiator announces "the war is over" following five decades of bitter conflict.
The deal would only be implemented if approved in a referendum on October 2.
---
But voters, who had been expected to support the deal, reject it by a narrow margin throwing the country into uncertainty.
The surprise victory for the "No" camp is a major blow to
President Juan Manuel Santos.
Opponents of the pact still want a peace deal but many say the one on offer was too soft on the rebels by allowing them to re-enter society, form a political party and escape traditional jail sentences.
"No" camp leader ex-president Alvaro Uribe insists the rebels will have to go to jail and won't get into politics.
"I congratulate all of you who made the efforts of reading the accords, who want peace but have said 'no' to the peace deal struck in Havana. To the young Colombians I say this: 'Peace is amazing. The Havana peace deals are disappointing'."
---
After this, President Juan Manuel Santos, who received the Nobel Peace Prize for his efforts, announces there is to be a new round of talks with FARC as all sides scramble to salvage the peace deal rejected by voters.
"Now we will decide among everyone which is the path we have to take so that peace, that peace we all want, can be possible and can be strengthened from this situation. I won't give up. I'll continue the search for peace until the last moment of my mandate…"
---
By the end of the month, Colombia's government and the Marxist rebels are back at the negotiating table in the Cuban capital Havana.
The aim, to incorporate changes into the peace deal narrowly rejected by the electorate.
---
Colombia is considering a new peace deal with FARC after voters rejected the first one. Here's what you need to know: pic.twitter.com/l6BnuCVmki

— The Stream (@AJStream) November 20, 2016
Six weeks after the referendum, both sides agree new terms to end the conflict.
The fresh agreement incorporated proposals from the opposition and other groups.
It will be signed on Thursday (November 24) and sent to Congress for approval.
#FARC rebels have agreed to sign a new peace deal with minor revisions with #Colombiahttps://t.co/gN3UxShqIbhttps://t.co/fULxNeZuOj

— euronews (@euronews) November 23, 2016
Some 220,000 Colombians have died as a result of the conflict and nearly 7 million driven from their homes.
Deaths by land mines exceed 11,000 people in the country since 1990.