Colombia and FARC agree on a revised peace deal
Comments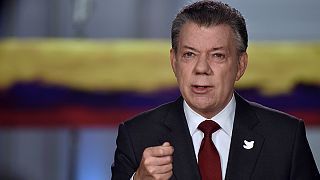 The Colombian government and FARC rebels have
agreed to sign a revised peace deal after the last one was rejected in a referendum.
The original accord was deemed by voters to lean too far in favour of the leftist Revolutionary Armed Forces of Colombia (FARC).
Terms of the new agreement were published last week, but this time round there will be no public vote.
Colombia, FARC Set to Sign Renegotiated Peace Deal: The Colombian government and the country's largest rebel group,… https://t.co/PeOUvUo2lP

— Neutral News (@neutralnews) November 23, 2016
Colombian President Juan Manuel Santos said in a televised address that the signing of the deal will take place on Thursday in Bogota. He added that "after listening to all the alternative proposals, and in agreement with the FARC, it was clear that the most convenient and legitimate way to vote on the new deal was through Congress".
President Santos and FARC leader Rodrigo Londono signed the previous agreement in September, in the city of Cartagena. The event – attended by several heads of state – was a heavily symbolic one, featuring symbols of doves and a pen made from recycled ammunition. Santos went on to win the Nobel Prize for peace for his efforts in securing the deal.
It meant the rejection of the deal the following October in a referendum came as a severe blow to the Colombian government and to President Santos personally.
The newly revised document however, appears to have made only limited changes such as a clarification of private property rights and how rebels are to be confined for crimes committed during the war.
It has already been rejected by Colombia's opposition who are angry over the lack of a public vote and who want a more radical re-write.
Peace talks have been underway for the last four years. The more then five-decades long conflict has killed over 220,000 and displaced millions.