Santos tells euronews ending violence in Colombia his priority
Comments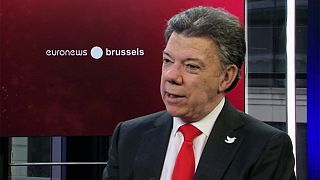 Juan Manuel Santos was recently in the euronews studios in Brussels for an interview which concentrated on his peace process with the FARC guerillas.
We asked him if he thought it was fair to allow former fighters to enter parliament and take part in politics.
"This is what it means to talk peace," he said. "They will have to surrender their weapons, abandon violence, and then they can continue with politics, but by democratic means. This is the peace process. We will see if they win any seats in parliament, it may be part of the deal. The goal is for them to continue with their ideals and political struggle but without violence or weapons".
euronews:
"What would be the economic impact of such a peace in Colombia?"
Juan Manuel Santos:
"Very significant economic and social benefits. We estimate that it could add an average 2% annual growth. We have latin America's highest growth rate, and in the first half of this year we hit 5%. With peace we could reach 7.2% if we add the 'peace dividend'. But above all it's everything that concerns development in the Colombian countryside. Social development is vital as we have six million internally displaced people, victims, and it's hard for them to survive out of their environment."