Cyprus reunification talks resume in Switzerland
Comments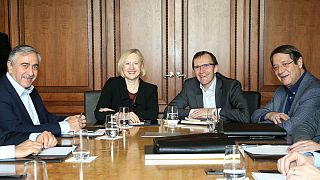 Greek and Turkish Cypriot leaders have gathered in Switzerland to try to resolve the final issues that could see the island reunified after four decades of division.
The two-day negotiation is being overseen the the UN's special adviser on Cyprus.
The two leaders met earlier this month and are said to have made progress towards agreement.
The talks overlooking Lake Geneva are the latest in a series of discussions that resumed in May last year.
Any agreement will mean redrawing current boundaries and potentially moving thousands of people from their homes.
Many were displaced when the island was first split more than 40 years ago.
The Turkish Cypriot government currently runs almost a third of the island.
If a deal is reached on territory, a final summit also involving Greece, Turkey and the UK will likely be held.
That meeting will focus on security, especially the presence of 30,000 Turkish troops who remain on the island after a 1974 military coup was followed by Turkey's intervention.
A final agreement would be put to both communities in a referendum.
A peace deal was approved by Turkish Cypriots in 1974 but rejected by Greek Cypriot voters.