UN chief pledges help on talks to reunify Cyprus
Comments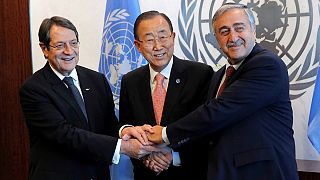 United Nations chief Ban Ki-Moon has promised to lend his support to rival Cypriot leaders as they engage in complex talks aimed at reunifying the divided island nation.
Ban Ki-moon commends Greek Cypriot & Turkish Cypriot leaders for remarkable efforts to date & progress made so far. https://t.co/rcS7F1S5sKpic.twitter.com/We3EjYqSm2

— UN Spokesperson (@UN_Spokesperson) September 25, 2016
Ban who met with both leaders (Greek Cypriot President Nicos Anastasiades and Turkish Cypriot leader Mustafa Akinci) on Sunday, called on them to "make the most" of the time ahead to overcome hurdles still baring the way to an accord.
It's hoped a deal can be reached be the end of the year.
Negotiations have centered on creating a new bi-communal Cyprus federation, but there have been differences over the issues of property and territorial adjustments that could see a number of Turkish Cypriots displaced from their homes.
The issues of how many people will be allowed to return to their former homes and how many will receive financial compensation are also huge stumbling blocks.
The costs of compensation are estimated to run to billions of euros and the financial aspects of the agreement are said to be among the issues on the table during the talks in New York.
Any agreement the two leaders reach will have to be put to simultaneous referendums on either side of the island.
Cyprus has been divided since an Athens-inspired coup in 1974 triggered a Turkish invasion of the north.