Unity at Marrakesh in face of Trump climate change threat
Comments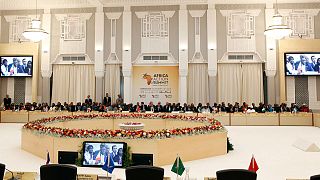 A united response: nearly 200 countries meeting in Morocco have declared action on climate change an "urgent duty".
They have reaffirmed their commitment to "full implementation" of last year's Paris Agreement to limit global warming.
The Marrakesh Proclamation is being seen as a message of solidarity against the threat of president-elect Donald Trump to pull the US out of the accord.
The outgoing administration is still on board.
"No one country, no one man, no one person can control the outcome of the destiny that we all see as part of the writing on the wall that climate change is real, we need to act and we are going to do everything we can so I definitely think that the speeches over the past several days had that impact and effect on us as a civil society and over other countries as well," said Tina Johnson, Policy Director at the US Climate Network.
US Secretary of State John Kerry cited melting glaciers, stronger storms and record-breaking droughts in his conference speech calling for urgent action.
In contrast, Donald Trump has called climate change a hoax, vowing to rip up the Paris deal, halt US taxpayer funding for UN global warming programmes – and to revive the American coal industry.