John Kerry seeks to reassure countries of US commitment to COP21 climate change deal
Comments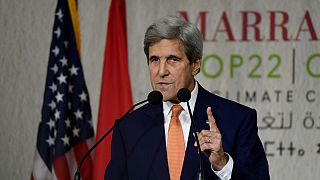 The US president-elect has called climate change a hoax and threatened to tear up the Paris COP21 deal.
So, instead of the expected victory lap at the 22nd edition of the conference, current US Secretary of State John Kerry found himself having to address insecurity about the nation's commitment to a hard-fought agreement to reduce global greenhouse gas emissions.
Met with partners from world's major economies at #COP22 to discuss shared work to #ActonClimate & implement historic #ParisAgreement. pic.twitter.com/82z8MIenmq

— John Kerry (@JohnKerry) November 16, 2016
Speaking in Morocco, he urged countries to treat climate change as an urgent threat and said people's perspectives on certain issues can be subject to change upon taking office.
"No one, no one should doubt the overwhelming majority of the citizens of the United States who know climate change is happening and who are determined to keep our commitments that were made in Paris," said Kerry.
However, earlier this week, a source on President-elect Donald Trump's transition team said he would seek to withdraw the US from the COP21 agreement.
Trump himself has previously threatened to halt any US taxpayer funds for United Nations global warming programmes and to reinstall the use of fossil fuels, with particular attention to reviving the coal sector.