Evacuations underway in New Zealand's quake hit areas
Comments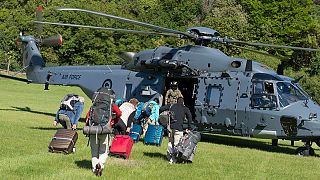 Emergency rescue teams in New Zealand have begun evacuating scores of trapped tourists and residents from Kaikoura, the town hardest hit by a huge earthquake and a series of powerful aftershocks.
Monday's 7.5 magnitude tremor killed two people.
The South Island town, north east of Christchurch, was at the epicenter of the quake, and has been completely cut off from the rest of the country.
New Zealand's Prime Minister John Key said: "We think there is a list of about 140 people that we're looking to get out of Kaikoura as rapidly as we can, they're on a priority list. It's obviously subject to weather."
It is estimated up to 100,000 landslides may have been triggered following the quake a wave of strong aftershocks and providing desperately needed food and water supplies to Kaikoura, and other stricken areas, remains a top priority.
The damage is expected to run into billions of euros after major road, rail and energy links were completely devastated by the quake.