EU ministers meet to discuss Trump's policy pledges
Comments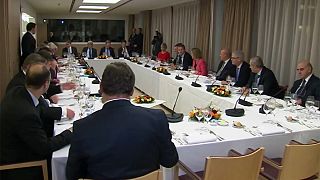 European Union foreign ministers met for an emergency dinner on Sunday to try to work out their best approach to a Donald Trump presidency.
The US-Europe relationship has been cast into disarray by the election of a man most European leaders had criticised. It has also cast doubts over European security, and the EU's relations with Russia, Iran and Syria's president, Bashar al-Assad.
EU wants reassurance that Trump is not going to pull out of

NATO

*
Will Trump reimpose sanctions against Iran, effectively abandoning nuclear deal? *
Will Trump's admiration for Putin lead to a fraying of sanctions over Ukraine? *
Slovakia which currently holds the rotating presidency was taking a pragmatic stance.
"We understand that there will be more American business- like approach and therefore there should also be more Europe from our side. but no one has ever questioned the outcome of the election or our readiness to work with the United States," said Foreign Minister
Miroslav Lajcak.
Two member states weren't at the dinner, France who is playing host to the new UN Secretary-General and Britain.
Being described as a " snub" to his EU counterparts, Britain's Foreign Secretary Boris Johnson said he was skipping the dinner as it didn't see it as necessary.
It has been reported that he has also told them to snap out of the "general doom and gloom" and what he called the "collective whinge-o-rama" following the US election result.
Just spoken to US VP-elect mike_pence</a>. We agreed on importance of the special relationship & need to tackle global challenges together</p>&mdash; Boris Johnson (BorisJohnson) November 10, 2016
EU foreign policy chief Federica Mogherini was not surprised Britain had not turned up.
"Some in Europe are surprised not when that country is absent nowadays but when it is present around the table of 28, so… I guess it's only normal for the country that has decided to leave the EU not to be so interested in our discussions of the future of our relations with the US."
Reporting for euronews, Efi Koutsokosta said most of the foreign ministers had played down the importance of the emergency dinner. However some had described it as "a dinner born out of the horror at a Trump victory."
She also said that even though most of them said they were anticipating new directions within US foreign policy, there were many concerns such as relations with Russia which is an issue that divides the EU member states.