Celtics snap losing streak with Knicks victory
Comments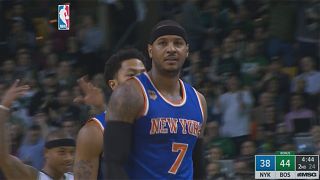 The Boston Celtics made light work of the New York Knicks on Friday as they thrashed their Atlantic Division rivals 115-87 in a wire to wire win.
Boston were without injured frontcourt duo of Al Horford and Jae Crowder but they produced a spirited effort on home court to bounce back from their embarrasing defeat against Washington Wizards on Wednesday.
A major turning point came with just under five minutes left in the first half.
Knicks star Carmelo Anthony, who had started strongly, was ejected for a second technical foul.
After eliminating the best player on the court Boston took full advantage to dominate and run away with the victory.
Isaiah Thomas played his role to perfection and an aggressive performance led to a game-high 29 points while Kelly Olynyk chipped in with 19 as the gritty and much-needed triumph at the TD Garden snapped Boston's three-game losing streak.