Assad forces retake parts of Aleppo as rebels move on Raqqa
Comments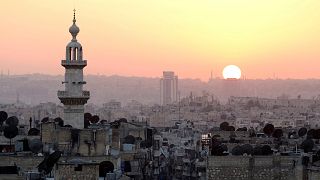 The Syrian army has captured the Dahiyet al-Assad district of western Aleppo.
Reporter khalediskef</a> in Minyan town / <a href="https://twitter.com/hashtag/WesternAleppo?src=hash">#WesternAleppo</a> <a href="https://t.co/1ElDbIOfYs">pic.twitter.com/1ElDbIOfYs</a></p>&mdash; NDF (NatDefFor) November 6, 2016
The Syrian Observatory for Human Rights, a London-based war monitor, said the army and its allies have made several advances on the divided city's western edge this week, obstructing the rebel offensive to break the siege on opposition-held districts.
Russian airstrikes with incendiary munitions this evening in Kafrnaha, west rural #Aleppo, #Syriapic.twitter.com/6M65LuUCH6

— Sami (@Paradoxy13) November 10, 2016
Syrian opposition forces backed by the United States are moving closer to an assault on the ISIL stronghold of Raqqa it is reported they are some 30-35 kilometres from Raqqa having recently gained control of the town of al-Heesha al Sughra.
#RussianNavy#Su33 from #AdmiralKuznetsov#AircraftCarrier Spotted Over #Tartus, #Syria
South Front, Nov 8, 2016https://t.co/YVOBTcCVjvpic.twitter.com/9ZAxtFyY4Y

—

ISS

Naval News (@NavalNews) November 8, 2016
The Russian aircraft carrier Admiral Kuznetsov is now in region off the coast of Syria to reinforce Syrian government forces.