Trump set for 'transition talks' at White House
Comments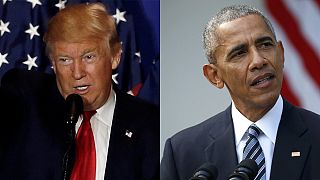 President-elect Donald Trump is to make his first visit to the White House at the invitation of President Barack Obama, just 24 hours after his stunning victory.
The meeting is being viewed with much interest as never has there been such clear mutual personal hatred and dismissal between two presidents.
Trump was elected on the back of years spent questioning the legitimacy of Obama to have the job, demanding proof he was born in the US – a requirement of eligibility.
Obama has spent years denigrating Trump in return, even declaring him "unfit to to be president" during the divisive campaign.
Now these two men will have to join together to lead the most difficult, and arguably most important, transfer of power America has ever faced.
They have, however, both expressed the need to look to the future.
"Now it's time for America to bind the wounds of division – have to get together. To all Republicans and Democrats and independents across this nation, I say it is time for us to come together as one united people. It's time," said Trump during his victory speech.
BREAKING: President Obama congratulates Trump on victory, invites him to White House https://t.co/Bb47OnU32l

— Lisa Daftari (@LisaDaftari) November 9, 2016
Playing down any possibility of ill feeling, Obama has promised a smooth hand over of power in January next year.
"It is no secret that the president-elect and I have some pretty significant differences, but remember, eight years ago, President Bush and I had some pretty significant differences. But President Bush's team could not have been more professional or more gracious in making sure we had a smooth transition so that we could hit the ground running."
Trump has promised to repeal many of what Obama sees as his achievements over the past eight years, including the Affordable Care Act or Obamacare.
It means the president and his aides have 10 weeks to seek ways of protecting his legacy.
---