Hillary Clinton tries to draw a line under defeat
Comments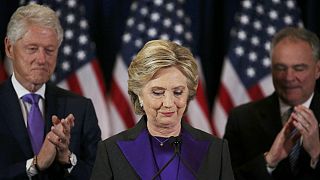 Hillary Clinton has urged her supporters to keep an open mind about Donald Trump and give him a chance to lead.
Following the unexpected Republican victory which saw them take the presidency and keep control of Congress, Clinton attempted to reconcile disappointed Democratic party members to defeat.
"I congratulated Donald Trump and offered to work with him on behalf of our country. I hope that he will be a successful president for all Americans. This is not the outcome we wanted or we worked so hard for, and I'm sorry that we did not win this election for the values we share in the vision we hold for our country. But I feel I feel pride and gratitude for this wonderful campaign that we built together," said Clinton as she conceded the 2016 White House race to Donald Trump.
But while many want the bitterness of the past months to go away, one House Republican has other ideas. Jason Chaffetz, a Utah congressman who leads the powerful House Oversight and Government Reform Committee has said he will continue to investigate Hillary Clinton's use of a private email server as secretary of state.