Watch: Large sinkhole opens up in Japan swallowing four-lane crossroad
Comments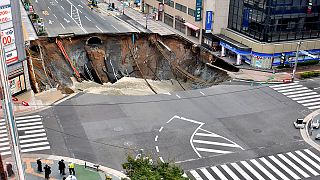 A large sinkhole has today, November 8, opened up swallowing an entire four-lane crossroads in Fukuoka City, southern Japan.
Investigations are being conducted into the possibility that the hole may have been caused by construction work currently underway to extend the city's subway system, local media reported.
The local council is currently working to stop the expanding sinkhole from consuming nearby buildings by filling it in with earth.
They have also evacuated the surrounding areas.