Live US election:Clinton beats Trump to the polls and votes early
Comments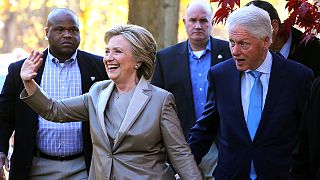 Democratic candidate Hillary Clinton voted early on America's east coast in brilliant autumn sunshine alongside her husband, the 42nd US president, and the crowd around her was fervently hoping she would be number 45.
The final pre-vote polls gave her a 90% chance of winning.
"It is the most humbling feeling because you know I know how much responsibility goes with this and so many people are counting on the outcome of this election what it means for our country and I'll do the very best I can if I'm fortunate enough to win today. Thank you," she said.
Clinton appears to be on track to win 303 electoral college votes, with Donald Trump estimated at 235, and that seemed to be reflected on Wall Street, which on Monday closing had had its best day in eight months.
Major bookmakers have taken the most money on Clinton, with one giving her an 81% chance of winning, and an exit poll in tiny Dixville Notch, New Hampshire, where the first ballots were cast gave Clinton the victory 4-2. Away from America's northeast the battle will not be so easy.