Mass rally against Jakarta's governor turns violent
Comments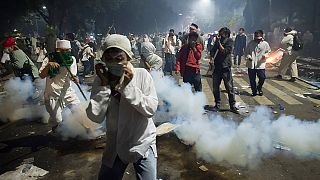 At least one person has been killed in Indonesia following violent clashes between police and hardline Muslim protesters in Jakarta.
There were ugly scenes as security forces fired tear gas and water cannon in an attempt to disperse a large crowd.
The violence came after a huge rally in the capital, in which protesters called for the city's Christian governor, Basuki Tjahaja Purnama, better known by Ahok, to be prosecuted for blasphemy.
"Our message is clear: if he is not declared a suspect today, we won't stop until this happens. We have already planned a three-day movement. We urge all Muslims across Indonesia to rise up in their own region.''
The mass rally earlier on Friday saw an estimated 50,000 people march upon the presidential palace.
The demonstration was triggered by accusations that governor Purnama, who later apologised but is now under police investigation, had insulted Islam's holy book the Koran.