Colombia and Britain vow to strengthen trade ties
Comments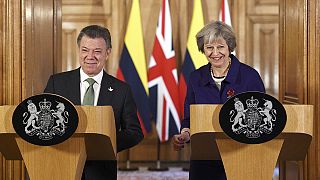 Britain and Colombia have vowed to boost trade on the second day of President Juan Manuel Santo's state visit to the UK.
After talks in Downing Street with Prime Minister Theresa May, the two leaders announced a series of business deals.
They also pledged to continue working on Colombia's peace process despite its narrow rejection by voters in the country in a recent referendum.
During a joint press conference Colombian President Juan Manuel Santos said: "Since the beginning of the negotiations with FARC, the United Kingdom has been a strong supporter of the search for peace in Colombia by sharing its experience with the Northern Ireland peace process, by exercising its leadership in the UN Security Council, or by contributing to planning for implementation of post conflict strategies.''
The two leaders also agreed to open trade talks as May said South American countries like Colombia offered new opportunities to Britain post Brexit.
''As the UK prepares to leave the EU, I am determined that Britain should become the global champion of free trade, and that means boosting trade with fast-growing economies like Colombia,'' the British prime minister said.
Along with a new oil and gas partnership, the talks at number 10 saw the two countries agree to a double taxation deal to help businesses and employees in both countries.