Venezuelan president appears ready for talks on crisis
Comments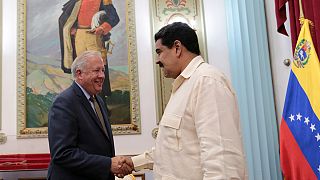 There have been a series of efforts to try and de-escalate the political standoff in Venezuela.
Although normally at loggerheads with Washington, President Nicolas Maduro met senior US diplomat Tom Shannon on Monday (Oct 31). He works for the US state department and has a track record on Latin American Affairs. Shannon is in Caracas to support an attempt to get talks going between Maduro and the opposition.
U.S. diplomat meets with Maduro to bolster Venezuela dialogue https://t.co/wWevTFWkFF

— Reuters Top News (@Reuters) November 1, 2016
In the face of almost daily mass protests and opposition efforts to remove him, Maduro does appear ready to consider some sort of talks with his critics.
On Monday the first face-to-face meeting between the two sides took place mediated by a Vatican envoy. The date of November 11 has been set for a "national dialogue" to begin.
The opposition has been trying to remove President Nicolas Maduro from office through a recall referendum. But a signature drive to demand such a referendum be held was suspended by the electoral authorities over allegations of fraud. The move led to opposition protests and increased tensions between the government and the opposition.
The opposition blames the government for spiralling inflation and food shortages which have crippled the oil-rich nation.
The government accuses the opposition of waging an economic war and trying to stage a political coup to oust Maduro from office.