Watch: American Airlines Flight 383 catches fire
Comments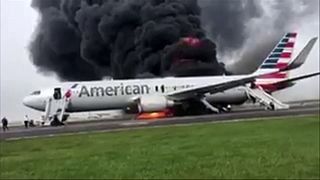 AA Flight 383 scheduled to fly from Chicago to Miami caught fire at Chicago's O'Hare International Airport on Friday afternoon.
There were 161 passengers and nine crew members on board. The accident was reportedly caused by engine-related mechanical problems.
After the accident, those on-board rushed to evacuate from the plane, which was a Boeing 767 aircraft. Seven passengers and one crew member were injured, but not seriously.