Aleppo hospitals deal with patient surge after offensive
Comments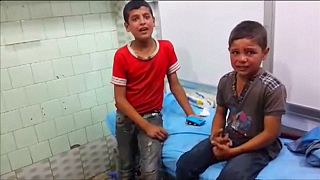 Hospitals in Western Aleppo are dealing with a surge in patients caught up in a rebel attack on government forces, who have the east of the city under siege.
Activists say at least 15 civilians have been killled and more than 100 wounded by rebel shelling.
State media say seven people died.
The rebel offensive
Syrian rebels launched a counter-attack on government forces and their allies in western Aleppo on Friday.
The aim was to break a weeks-long siege on the eastern Syrian city.
The assault was mainly focused on the city's western edge by rebels based in the countryside outside Aleppo.
Photographs seem to show insurgents approaching Aleppo in tanks, armoured vehicles, bulldozers, pick-up trucks and on motorcycles.
A large column of smoke can also be seen.
Syrian rebels launch Aleppo counter attack: https://t.co/6PicGbHzC4pic.twitter.com/DFuvGXRe03

— Reuters Top News (@Reuters) October 28, 2016
Rebel groups involved
Jabhat Fateh al-Sham – a former affiliate of al Qaeda previously known as the Nusra Front
Groups fighting under the Free Syrian Army banner
Abu Youssef al-Mouhajir, an official from the powerful Ahrar al-Sham islamist group, said the extent of cooperation between the different rebel factions is unusual.
Russian response
Russia's Interfax news agency says the offensive prompted the Russian Defence Ministry to ask President Vladimir Putin for permission to resume air strikes against militants in rebel-held eastern Aleppo.
The army says there have been none for ten days.
Kremlin spokesman Dmitry Pesko says Putin said it was not necessary to resume strikes yet.
Rebels in Aleppo attack, Putin cautious on new Russian raids https://t.co/ln3IAgB4aX

—

AFP

news agency (@AFP) October 28, 2016
Conflicting reports
There are conflicting reports of advances in areas on the city's outskirts.
Fatah al-Sham says in a statement that rebels have gained control of Dahiyet al-Assad, a residential suburb in the southwest of the city.
However, a Syrian military source says the army and its allies have thwarted what he called "an extensive attack on south and west Aleppo".
Aleppo, Syria's biggest pre-war city, has become the main theatre of conflict between President Bashar al-Assad.
He is backed by Iran, Russia, Shi'ite militias and Sunni rebels, including some supported by Turkey, Gulf states and the US.
All views
Ahed Alkalls from Euronews Arabic Service says the outcome of the operation cannot be predicted.
"We must wait and see if this latest rebel offensive is a success," she says.
"At the beginning of August, the rebel groups mounted another offensive to break the siege on eastern Aleppo. After four weeks, the regime, backed by Russian air support, managed to reestablish the siege."
"This first offensive was on a neighbourhood very close to where the latest attacks are taking place."
Aleppo
The city has been divided for years between the government-held western sector and the rebel-held east.
The army and its allies put the east under siege this summer, launching a new offensive in September that health workers say killed hundreds of people.
Syria's civil war, now in its sixth year, has killed hundreds of thousands of people, displaced half the country's pre-war population, dragged in regional and global powers and caused a refugee crisis in the Middle East and Europe.
Near miss
A Russian fighter jet flew so close in front of an aircraft belonging to the US-led coalition over Syria that the plane felt the jet's wake.
A US coalition spokesman says the jet passed within half a mile of the larger coalition plane on October 17.
The Russian action did not appear to have been done "with nefarious intent" and the two aircraft communicated, he said.
The incident highlights the risks over the complicated and crowded airspace over Syria, as both the coalition and Russia carry out air campaigns.