Talks aims to salvage Colombia's fragile FARC deal
Comments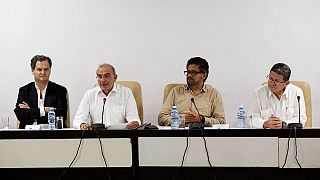 Colombia's government and FARC rebels have been back at the negotiating table in the Cuban capital Havana.
The aim is to incorporate changes into the peace deal narrowly rejected in a referendum earlier this month.
Opponents said it was too lenient on the Marxist rebels.:
"Both delegations recorded positively that this discussion was possible, because for the first time in recent history, peace is the central core of the citizens' considerations – leaving behind the war," said Ivan Marquez, chief negotiator for the Revolutionary Armed Forces (FARC).
The government and rebels have been holding talks in Havana for four years – in a bid to end a 52-year-old conflict that's killed more than 220-thousand people.
Those who voted against the recent deal were angry that it offered the FARC ten congressional seats – and did not foresee jailing the rebels' leaders.
Although the FARC leadership has said it is willing to hear new ideas, overcoming these criticisms may be difficult – given that the group has repeatedly refused to consider jail and time and wait to form a political party.
Colombian President Juan Manuel Santos, who has staked his legacy on ending the war with the FARC and earlier this month won the 2016 Nobel Peace Prize for his efforts, said in a statement on Friday that time was of the essence.
Talks are due to resume next Thursday on the fragile accord.