Cholera outbreak worsens, as UN agency warns over malnutrition in war-torn Yemen
Comments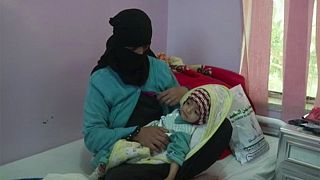 A cholera outbreak in Yemen is spreading rapidly, adding to the already grim humanitarian situation in the country.
Although many cases can be treated by oral rehydration, 18 months of war has left the country with few functioning medical facilities and clean water supplies, and if left untreated the disease can kill within hours.
"The latest figures I got this morning is that the number of cases is increasing, and that there are, as of 27th October, 1,410 suspected cholera cases in 10 out of Yemen's 23 governorates," the World Health Organisation spokesperson, Tarik Jasarevic explained.
Children under 10 accounted for half of the cases.
On top of the outbreak, the UN estimates 370,000 children are at risk of acute malnutrition, which requires urgent treatment.
"Nearly 10,000 deaths of children under five years may have occurred due to declining health care, this crumbling health system. Six-hundred health facilities have stopped working, and a fifth of all vaccination centres and district vaccine stores remain closed," Unicef spokesperson Christophe Boulierac told reporters.
The UN's World Food Programme said it had provided food for three million people every month since February, but resources are running out. The agency is calling for more than 200 million euros to provide food for the millions who go hungry every day in Yemen.