Two powerful earthquakes rock Italy's central region
Comments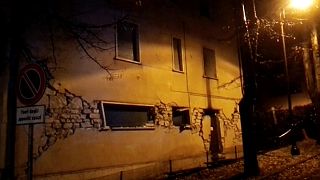 Two strong earthquakes, one measuring 5.4 and two hours later a second measuring 5.9 magnitude have rocked central Italy, damaging buildings and blocking roads. No casualties have been reported.
Both tremors which struck in the late evening local time sent residents running into the streets.
#BREAKING: No injuries or fatalities reported in the #Italy Earthquake earthquakes; Damage reported pic.twitter.com/Qx1Dz1mQPd

— Amichai Stein (@AmichaiStein1) October 26, 2016
Officials in the town of Visso, not far from one epicentre, have reported a dozen injuries and the collapse of several old rural churches.
Both quakes were located in Marcerata province but were felt across a large swathe of central and southern Italy. They were even strong enough to register more than 150 km south in Rome.
An American tourist described what happened:
"So it started shaking and I didn`t know and I tapped him and said is this an earthquake happening? We saw that the windows were opening back and forth and the chandelier was rocking back and forth. So we were really surprised".
A M5.4 #earthquake has been felt in central #Italy. No reports of immediate damage so far. https://t.co/Q5jf2OCBY1

—

BGS

(@BritGeoSurvey) October 26, 2016
In one town, the local mayor said some 300 people had gathered in the main square fearful of further quakes.
It was just two months ago that a powerful earthquake toppled villages and killed nearly 300 people in the same region. Officials have claimed these latest tremors may well be linked to the same seismic shifts which caused the August quake.