Several people reported dead after powerful quake hits central Italy
Comments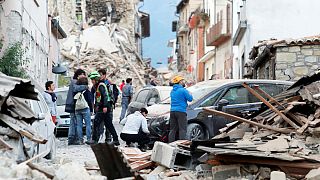 A strong earthquake has struck central Italy, bringing down buildings and leaving at least 38 people dead, according to reports.
One of the worst hit places is the village of Amatrice, where the local mayor has reported extensive damage with some people trapped under rubble.
Latest: Mayor of earthquake-hit Italian town says family of 4 trapped under debris without any signs of life. https://t.co/FnMBLFQ5jn

— The Associated Press (@AP) 24 August 2016
Pictures coming in from damage #Amatrice, #Italy after devastating #earthquakepic.twitter.com/CLEzN1Ffzp

— Pamela Marrache (@PamelaMarrache) August 24, 2016
At least six dead and others trapped under rubble after 6.2 magnitude Italy earthquake https://t.co/6L7FwsueLOpic.twitter.com/ViSLXqL4wO

— Evening Standard (@standardnews) 24 August 2016
Along with Amatrice other towns badly damaged are believed to be Accumoli, Posta and Arquata del Tronto.
The quake was magnitude 6.2 and struck in the early hours of Wednesday morning.The epicentre was at Rietti near the city of Perugia.
The tremor was felt some 170 km away in Rome and has been followed by strong after shocks.
Prime Minister Matteo Renzi's spokesman said on Twitter that the government was in touch with the country's civil protection agency and following the situation closely.
In 2009, a 6.3-magnitude earthquake in the Aquila region, left more than 300 dead.
Large earthquake strikes central Italy https://t.co/4XkwUgsBLV

— The New York Times (@nytimes) 24 August 2016
Affected area 'very touristic'
Euronews reporter Gardenia Trezzinni, who is in Rome, said the areas affected are part of an historic region – popular with visitors at this time of year.
"The earthquake happened in the intersection of four regions in the centre of Italy. Lazio, Umbria, Marche e Abruzzo, in a triangle between Perugia, Ascoli Piceno and Rieti. The worst damage seems to be around Rieti," she explained.
"The affected area is a historic region, with little villages, very touristic in the summer.
"These towns double their population in July and august. It's not an area with large buildings.
"Most of the damage is affecting houses in the historic centres, houses made of rock.
"The major difficulty at this point for the rescue and emergency teams is getting to the historical centres due to roads being blocked by debris."