Venezuelan MPs vote to put President Maduro on trial
Comments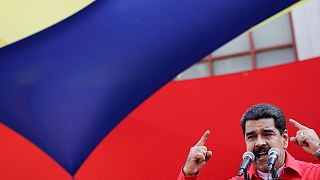 Angry scenes within Venezuela's National Assembly were on view on Tuesday (Oct 25) as lawmakers jostled each other during a heated debate. Eventually the opposition led-parliament voted to launch a trial against President Nicolas Maduro accusing him of violating democracy.
It is an assembly with only one objective and that is to damage Venezuela

Venezuelan President
The government has dismissed the vote as meaningless.
RT: nytimesworld</a> :Venezuelan president dismisses a vote in the National Assembly to put him on trial <a href="https://t.co/ZRAAaTMtck">https://t.co/ZRAAaTMtck</a> https://t.co/V</p>&mdash; noticias venezuela (notiven) October 26, 2016
The move came after last week's suspension of an opposition backed push to hold a referendum seeking to remove Maduro. The electoral authorities suspended the process last week giving the official reason as there being allegations of fraud during the gathering of signatures for the first petition required to enable the referendum.
However, opposition lawmakers have long accused the National Electoral Council of being under the government's control. But with that avenue closed off, Maduro's critics are now looking to bring legal action against him.
President Maduro who had just returned from a tour of other oil-producing nations and meetings with the Pope,
later accused MPs of attempting to stage a "coup" and said the parliament was illegitimate.
"It is an assembly with only one objective and that is to damage Venezuela. Let me tell you that we will not allow a parliamentary coup of any kind here."
While Maduro enjoys support among the rural poor and the military many others blame for Venezuela's dire economic situation. The oil-rich country is facing widespread food shortages and spiralling inflation.