Syrian allied forces warn Turkey over Aleppo
Comments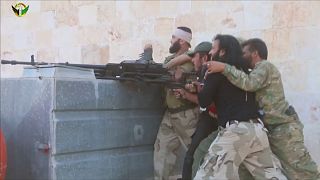 The Turkish President has said the military operation to the northeast of the besieged city aims to secure the towns of Al-Bab and Manbij, and that they have no designs on Aleppo.
The comments come as a field commander allied to the Syrian regime warned Turkey that any move towards their positions would be met 'decisively and with force.'
The Foreign Minister Mevlut Cavusoglu said Turkey was determined to continue with its operation whose 'sole aim' was to rid the area of ISIL militants, and will continue until Al-Bab is recaptured. He added that the area should be declared a safe zone so people can return.
It comes as Turkish-backed rebels battling ISIL militants to the north of Aleppo have been attacked by a suspected Syrian army helicopter.
Two rebels were killed and five were wounded, according to the Turkish military, in what appears to be the first direct hit on Turkish-backed forces since Ankara began operations over the Syrian border in August.