Russia to extend air strike moratorium, as opposition alleges bombing in Aleppo
Comments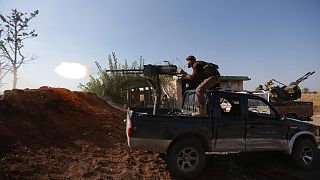 Fighting rages around Aleppo, as Russia says it will extend a moratorium on air strikes on the besieged Syrian city into a ninth day.
Turkish forces in the nothern Aleppo province claim to have taken control of three areas in the past 24 hours, while air strikes targeted the rebel-held town of Uram al-Kubra west of Aleppo, killing at least three people.
The Russian Head of Operations for the Russian armed forces said that air strikes had been halted since October 18 within 10km of Aleppo and that the moratorium would be prolonged. He also said that humanitarian corridors, which were opened to allow civilians to flee, remained open. His statement contradicts opposition fighters who claim that rebel-held parts of the city had been bombed in recent days.
Some 300,000 people are estimated to be living in the besieged eastern parts of Aleppo.
The UN has expressed frustration at both the regime and rebel fighters for obstructing the evacuation of critically ill and injured civilians, adding it is facing an unparalleled humanitarian catastrophe.