Philippines President Duterte reassures Japan over China visit
Comments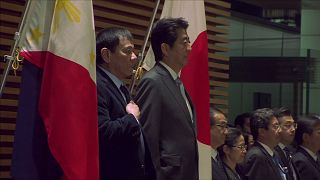 Philippines President Rodrigo Duterte has said his recent visit to China was about economics and not security, as he sought to reassure Japan on an official visit to the country.
He also announced that Manila would "work closely with Tokyo on matters of regional concern", such as the South China Sea dispute.
Last week in China, Duterte announced a 'separation' from the US, however, he insisted relations were not being broken but simply that he was seeking to pursue an independent foreign policy. He insisted that he might end defence treaties.
The US says it has received no official communication from Manila about changes to the alliance between the two countries.
Duterte's statements create a headache for Japan which has strengthened ties with Washington, while also building up relations in Southeast Asia to counter China's rising status.