Hong Kong legislature once again in turmoil as separatist law makers ignore barring order
Comments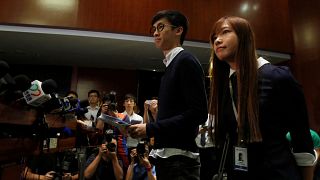 A meeting of Hong Kong's legislative council once again descended into chaos on Wednesday after separatist lawmakers ignored an order barring them from the chamber.
The Youngspiration party's Yau Wai-ching, 25, and Sixtus Leung, 30, flanked by a human chain of democracy legislators, briefly took their seats before the council president adjourned the meeting.
Andrew Leung asked the pair to leave before ending the session, declaring that until his order was enforced, he would "not say a word".
Outside the chamber, thousands of pro-China staged a rally opposing their election.
So many pro-government protestors in #hongkong the nursing homes gave all staff the day off. pic.twitter.com/vENGTwKAg2

— Andrew Leyden (@PenguinSix) 26 October 2016
Protests inside and out
The separatist lawmakers, elected to the legislative council in September, were initially barred on the grounds that they have not properly taken their oaths of allegiance – taking the opportunity to stage an anti-China protest when doing so.
On their first attempt to read the script swearing allegiance to the "Hong Kong Special Administrative Region", both deviated, referring to the partially autonomous territory as the "Hong Kong Nation".
Yau is alleged to have called the People's Republic of China "the People's Ref*cking of Shina" – Shina being a derogatory term for the country.
Yau went even further by apparently calling the People's Republic of China "the People's Ref-cking of Shina."
weird_hist</a> Harry Potter in the Hong Kong Legislative Council, called <a href="https://twitter.com/hashtag/Legco?src=hash">#Legco</a> <a href="https://t.co/MUN6eJbWyO">https://t.co/MUN6eJbWyO</a> <a href="https://t.co/xZqFtPehSi">pic.twitter.com/xZqFtPehSi</a></p>&mdash; Wai Sing-Rin (waisingrin) 14 October 2016
The pair wrapped themselves in a blue banner inscribed with the words "Hong Kong Is Not China".
Hong Kong legislative council members protest for independence from China during oath-takinghttps://t.co/kuqkQpMH1jpic.twitter.com/rkf6CtVSNY

— YouTube Newswire (@ytnewswire) 12 October 2016