Confusion over refuelling requests for Russian warships
Comments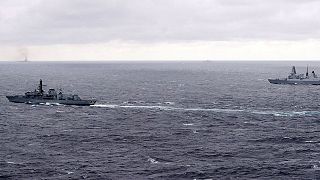 Russia has denied making a refuelling request to Spain for a fleet of its warships which has been sailing for the past week en route for Syria.
Russia's defence ministry has said no request had been sent for the main vessel, aircraft carrier Admiral Kuznetsov, to be refuelled in Ceuta.
Earlier reports had said Moscow had originally asked for permission to dock at the Spanish port but had later withdrawn the request.
Spain has been under pressure from NATO allies who have been following the flottila, not to allow the stop over. However NATO's chief said it was a matter for the Spanish government.
Led by Russia's only aircraft carrier Admiral Kuznetsov, the naval group includes a nuclear-powered battle cruiser, two anti-submarine warships and four support vessels, probably escorted by submarines.
The battle group carries dozens of fighter bombers and helicopters and is expected to join about 10 other Russian vessels already off the Syrian coast.
There is concern among the alliance members that the deployment of the ships and the aircraft they are carrying could lead to an increase in air assaults in Syria, notably in the besieged city of Aleppo.