Whale sanctuary plan is harpooned at the IWC
Comments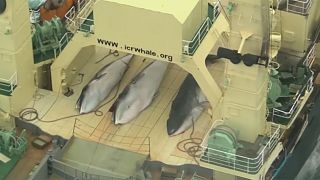 A group of countries, led by Japan, have blocked a move by South American and African states to create a whale sanctuary in the South Atlantic.
The proposal, brought by five African and South American countries, needed the support of three quarters of the International Whaling Commission's 88 members.
24 were against it, including Japan.
Today is a sad day for #whales, as countries who support commercial whaling voted against the South Atlantic Whale Sanctuary. #IWCpic.twitter.com/hEWkATnq1g

— Animal Protection US (@MoveTheWorldUS) October 25, 2016
Why is Japan against the plan?
It is one of a handful of countries, including Norway and Iceland, that continue to hunt whales.
They do this thanks to a loophole in the moratorium allowing the practice of "scientific whaling".
The carcasses are examined before the meat, regarded as a delicacy by many Japanese, is eaten.
Japan says the point of examining the carcasses is to determine the age of dead whales. This can increase awareness of what is needed to help preserve "sustainable" whale numbers.
Why was the moratorium introduced??
At the urging of environmentalists to preserve the dwindling whale stocks in the world's oceans.
The sanctuaries improved protection of whales from pollution and entanglement in fishing nets.
Scientists estimate that around 300,000 whales and dolphins die annually after being accidentally caught in fishing equipment.
What they are saying
"Brazil does not accept the practice of scientific whaling. The loophole should not be there at all," IWC envoy for Brazil, Hermano Telles Ribeiro
"Unless we solve this issue, or find a way out of this stalemate, no issue will be actually discussed in a constructive manner," – Japanese envoy Joji Morishita says the IWC remains split on an outright ban.
"This is an area that is critically important to a wide range of whale species," – Matt Collis of the International Fund for Animal Welfare says the South Atlantic sanctuary is crucial to preserving whale diversity.