ISIL claims responsibility for deadly Pakistan police academy attack
Comments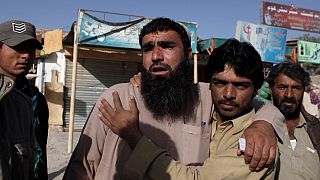 ISIL says it was behind an overnight attack on a police academy in Pakistan that has left at least 60 police cadets and guards dead.
They just barged in and started firing point blank
Three armed men stormed the compound in the southwestern city of Quetta late on Monday as hundreds of recruits were resting.
They took hostages and opened fire in an attack that went on for nearly five hours and only ended when two of the militants blew themselves up and a third was shot dead by security forces.
Most of the dead were cadets.
60 police cadets martyred in terror attack on Police Training Centre in #Quettahttps://t.co/zJzZbgsGT6pic.twitter.com/Or1jcB8NzT

— Radio Pakistan (@RadioPakistan) 25 octobre 2016
"Militants came directly into our barrack. They just barged in and started firing point blank. We started screaming and running around in the barrack," one police cadet who survived told media.
Other cadets at the college spoke of jumping out of windows and cowering under beds as masked gunmen hunted them down.
ISIL's Amaq news agency published the claim of responsibility, saying three of its fighters "used machine guns and grenades, then blew up their explosive vests in the crowd".
So-called Islamic State has sought to make inroads over the past year, hoping to exploit Pakistan's growing sectarian divisions.
But reports said a group called the Tehreek-e-Taliban Karach also claimed responsibility.
And Pakistani officials earlier told journalists that another Sunni extremist group, Lashkar-e-Jhangvi, was probably behind the raid, saying its operatives had been receiving instructions from Afghanistan.
Quetta has long been regarded as a base for the Afghan Taliban, whose leadership has regularly held meetings there. It is the capital of Baluchistan Province where militant violence is rife.
Monday night's assault on the police college was the deadliest in Pakistan since a suicide bomber killed 70 people in an attack on mourners gathered at a hospital in Quetta in August.
The August attack was claimed by ISIL, but also by a Pakistani Taliban faction, Jamaat-ur-Ahrar.
The military had dismissed previous ISIL claims of responsibility and last month said it had crushed the Middle East-based group's attempt to expand in Pakistan. It also dismissed previous ISIL claims of responsibility as 'propaganda'.
Analysts say so-called Islamic State clearly has a presence in Pakistan and there is growing evidence that some local groups are working with it.
Despite being targeted twice before, the Police Training College in #Quetta had no additional security https://t.co/268KNhQ3i1pic.twitter.com/lYuUJxgktp

— Newsweek Pakistan (@NewsweekPak) 25 octobre 2016
Despite questions about how the attackers could have got into a heavily fortified area, local officials say the death toll could have been worse.
"Terrorists planned for a large number of casualties as around 700 police trainees were in this centre but due to the prompt operation by our security forces their plan was not successful," said Mir Sarfaraz Bugti, Home Minister of Baluchistan.
More than 100 people were injured. Many of them are cadets who are in a serious condition, meaning the number of dead could yet rise.
Pakistan has improved its security situation in recent years but Islamist groups continue to pose a threat and stage major attacks in the mainly Muslim nation of 190 million.
with Reuters