Gunmen storm a police training college in Pakistan
Comments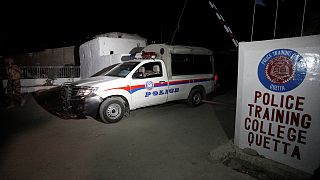 A major security operation has been launched in Pakistan after armed militants attacked a police training collage. At least 59 people are feared dead and dozens more injured.
Its believed five attackers stormed the college in Pakistan's western city of Quetta, firing as they entered the building. Two of them have now been reported killed.
The college hostel is thought to have been a main target.
It's where around 200 to 250 police trainees were resting and sleeping – according to security officials.
Hundreds have been evacuated from the building while the injured have been taken to a local hospital.
No group has so far claimed responsibility for the attack.
Quetta is the provincial capital of Balochistan, where separatist groups and Islamist militants have both carried out similar attacks in the past.
In August, 88 people were killed in separate bomb attacks targeting a hospital and lawyers in Quetta.
Police academy in Balochistan capital Quetta attacked. Not clear if gunmen r Baloch guerillas or Jihadi terrorists. https://t.co/idGBQ1eyQB

— Tarek तारिक Fatah (@TarekFatah) October 24, 2016