Autistic artist Stephan Wiltshire takes on Mexico
Comments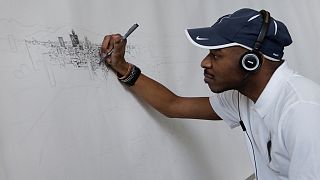 Autistic British artist Stephen Wiltshire who is known for his ability to create entire cityscapes from memory is tackling one of his biggest challenges yet – Mexico City.
Using his astonishingly accurate near photographic memory Wiltshire started sketching what he'd seen based on a half-hour helicopter flight the day before.
The artist's vision quickly began to emerge in remarkable detail: Mexico City's World Trade Center, a boxy skyscraper with a cylindrical crown that dominates a south-central neighborhood, and the backdrop of volcanic mountains that ring the capital.
For this special commission Wiltshire will spend about 40 hours finishing the project, drawing seven hours a day with breaks to eat.