Syria crisis: Aleppo fighting intensifies as ceasefire collapses
Comments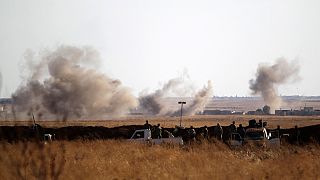 Fierce fighting and air strikes have broken the third-day of a four-day unilateral ceasefire in the divided Syrian city of Aleppo, according to the Syrian Observatory for Human Rights.
Saturday's air attacks reportedly hit a key frontline in the city's southwest, and clashes and shelling continued throughout the day.
There have been night-time clashes as each of the daytime ceasefires have ended, but Saturday is understood to have seen much fiercer fighting – on top of the first air strikes.
Russia has said it called the ceasefires to allow civilians and rebels to leave the besieged city.
Meanwhile, there is condemnation from the US after an international inquiry blamed Syrian government forces for a third toxic gas attack in the civil war.
It is said to have happened in Qmenas, in Idlib province, in March last year.
The government was previously blamed for two chlorine attacks in a report out in August.