Syrian government forces blamed for 2015 chemical weapons attack
Comments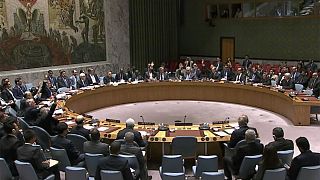 Investigators have said Syrian government forces were behind a third chemical weapons attack last year.
In a report to the United Nations Security Council, military helicopters are said to have dropped barrel bombs containing chlorine gas in Syria's north-west province of Idlib in March 2015.
The toxic chemical can kill by burning the victims lungs, drowning them in the resulting body fluids.
The finding sets the stage for a showdown between Russia and western UN council members over how to respond.
In addition to the bombing in Idlib, an earlier report also accused Bashar al Assad's forces of two other chemical weapons attacks in 2015 and 2014.
The report follows the UN human rights chief's condemnation over the humanitarian crisis in Aleppo.
Describing the city as a ''slaughter house'', Zeid Raad Al Hussein said the siege and bombing of eastern districts of the city constituted ''crimes of historic proportions.