Venezuela's opposition accuses government of ''coup''
Comments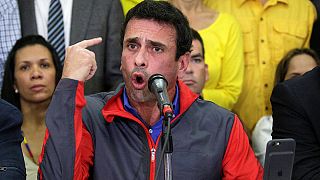 In Venezuela, the opposition has accused the government of staging a coup after their bid to hold a referendum to remove President Nicolas Maduro was suspended.
Opposition leader Henrique Capriles called for nationwide protests this Wednesday to restore constitutional order.
"There was a coup in Venezuela, you can't put it another way. And if they (officials) want to put us in jail well we already have colleagues in jail so give it your best shot but we will have people that will go out and defend the Constitution. We will not tolerate Maduro anymore," Capriles said.
On Thursday election officials in Venezuela put the brakes on the petition needed to organise a recall vote against Maduro. A court also barred eight key opposition leaders from leaving the country.
Despite more planned protests, the move to halt the referendum appears to have left Maduro on track to complete his presidential term which ends in early 2019.
In September more than a million Venezuelans took to the streets of Caracas.
Faced with chronic shortages of basic foods and medicines due to spiralling inflation, polls show widespread support for change, with 76 percent of the population reportedly calling for Maduro to leave office.