19 killed in Russian helicopter crash
Comments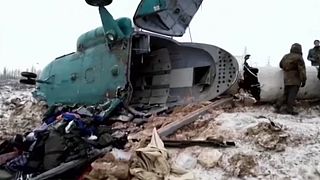 A helicopter has crashed in northern Siberia, with the loss of 19 people on board.
Three crew members and 16 passengers died when the Russian-made MI-8 helicopter came down on Friday in bad weather.
Two survivors were injured. A third is unhurt.
Nineteenpeople die in helicoptercrash in northernRussia: Threesurvivorstakento hospitalafterMi-8 carr… https://t.co/8tD6dUnvln

— YohkOrg(@yohk_org) October 22, 2016


The helicopter was carrying employees of a contractor from oil company Rosneft's Suzun oilfield.

It is part of Russia's northernmost onshore oil production project.