Four-way talks agree on road map to restart Ukraine's peace deal
Comments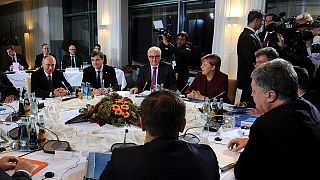 Ukraine Germany France and Russia have agreed to draw up a roadmap by the end of November on how to implement the 2015 Minsk peace deal.
During five hours of talks in Berlin, during which it was said miracles were not expected, the four leaders at least appeared to be of one mind, that of wanting to make some progress.
Ukrainian President Petro Poroshenko said the first point must be an immediate and all inclusive ceasefire..He then went on to say November's roadmap will give grantees for the implementation of Minsk.
The 2015 Minsk agreement- originally eased fighting between Ukrainian forces and Russian-backed rebels in the east of the country, but violence since then has frequently flared along a demarcation line.
At the end of Wednesday's talks Russian President Vladimir Putin went on record to confirm they had agreed to allow a wider role for a police mission from the Organisation for Security and Co-operation in Europe (OSCE) to monitor the situation.
Local elections remain an issue with Ukraine insisting they will only be held in the Donbass region after the area is demilitarized by both Russian backed separatists and Ukrainian troops.