Venezuela 'protects unpopular government' with delayed polls
Comments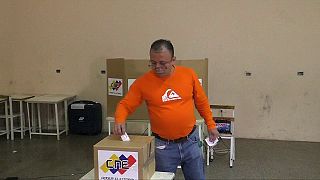 Venezuela's state governorship elections are being carried over to next year instead of being held in December.
The country's election board announced the delay which is seen as favouring the unpopular socialist government.
Critics accuse the authorities of also trying to derail an opposition push for a referendum to recall President Nicolas Maduro whose ratings have tumbled amid Venezuela's deep economic crisis.
The 'exceptional delay' has been justified in Venezuela due to what's been called a US-led "economic war" against them and the oil price crash which has slashed national revenues.
But opinion polls show the government would currently fare badly at any election, and government sources have said they are hoping for an oil price recovery to help their cause.
Venezuela's next presidential vote is due at the end of 2018.