A giant leap forward? China embarks on its longest space mission to date
Comments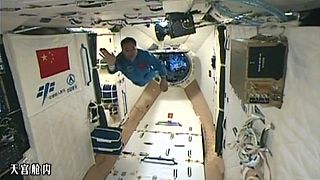 China has taken what could be a giant leap forward in its space programme with the arrival of two of its astronauts at the Tiangong 2 space laboratory.
Watch LIVE: #Shenzhou11 and #Tiangong2 set for orbital docking #Today at 19:30UTC https://t.co/6LJ8qJnY0O cc: @Astroguyzpic.twitter.com/hOsiWR3BWX

— Massimo (@Rainmaker1973) October 18, 2016
Jing Haipeng and Chen Dong are embarking on what is expected to be the country's longest space mission. They'll spend 30 days conducting experiments in the lab.
The Shenzhou-11 spacecraft docked at Tiangong to great applause a day after blasting off from northern China.
Watch the breathtaking #Shenzhou11 blast-off #SpaceChinapic.twitter.com/AlqeyMrdar

— CCTVNEWS (@cctvnews) October 16, 2016
Excluded from the ISS, Beijing plans to build its own fully-operational, permanent, space station by 2022.
It pours an estimated two billion euros into its space programme per year.
China's first manned mission was in 2003. Since then, 11 Chinese people have travelled into space.