Yemenis in Sanaa react to new 72-hour ceasefire
Comments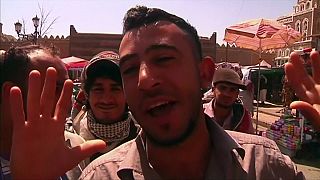 In Yemen, residents in the capital Sanaa have reacted to the UN's announcement that a 72-hour ceasefire will start late on Wednesday, by calling for a permanent end to the war.
The deal aims to facilitate the delivery of vital humanitarian aid to the country, which has been ravaged by conflict since 2014.
Yemen's internationally recognised government, led by President Abdrabbuh Mansour Hadi, has been fighting Iranian backed Houthi rebels for control of Sanaa.
"Truce? What we need is an end to the war. We don't want another three-day ceasefire. We want an end to the war," said one Sanaa resident.
Another man said: "They talk about a truce but then they return with air strikes. They've destroyed our homes, they've destroyed our children. They struck a mourning hall, wedding ceremonies, mosques and schools. They have hit everything, they have destroyed the infrastructure. Where is this truce going to come from?''
The new ceasefire was brokered after a recent escalation in the fighting – notably this month's bombing of a funeral ceremony in which 140 people died in a Saudi airstrike. That sparked fresh international calls to the end the conflict.
On Sunday, following talks in London, the US, Britain and the UN's peace envoy urged the warring parties to declare a truce.