First Calais 'Jungle' camp children arrive in UK
Comments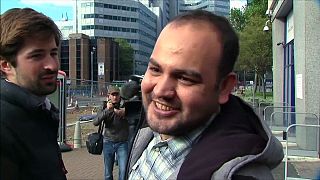 The first children from the so called 'Jungle' migrant camp in the French port of Calais have arrived in Britain.
Fourteen unaccompanied minors, all teenagers, came by coach to south London as part of a fast-track system.
They are the first of more than 100 children expected to make the trip this week and will be reunited with relatives already living in the UK.
One relative waiting for his brother said:''I'm so excited, so happy, I think it will be a lovely day after 11 years for me.''
Critics have accused the UK government of dragging its feet over accepting young unaccompanied children from the Calais camp and are demanding it does more.
''Today is a good day for all of the children who will be reunited with their families but it is a small step forward. There are over a thousand unaccompanied children in Calais still sitting at terrible risk with the threat of demolition looming in what we believe to be just over a week's time,'' Beth Gardiner-Smith, Community Organiser with Citizens UK said.
French authorities were due to begin dismantling the Jungle camp this week, but delayed the process, in part to give Britain more time to identify eligible minors.
The arrivals of the children come as the UK and France construct a four metre high wall along the road leading up to the Calais ferry terminal, in a bid to stop migrants from illegally entering the port.