UN approves Antonio Guterres as next Secretary General
Comments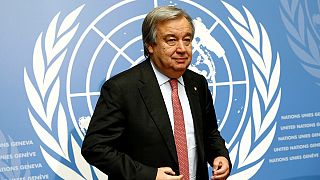 The 193-member UN General Assembly has approved the appointment of former Portuguese Prime Minister Antonio Guterres as the organisation's new secretary general.
The next mandate runs from January 1, 2017, for a period of five years.
Peace
Justice
Human dignity
Tolerance
Solidarity

António Guterres' vision as next UN Secretary-General, see more: https://t.co/fe8pwQc7Qvpic.twitter.com/AhbzuwwWxr

— United Nations (@UN) October 13, 2016
#StayTuned 10am EST: Official appointment of António Guterres as #NextSG followed by stakeout at 11.15am. Watch live https://t.co/1Wh5hlG60y

— UN GA President (@UN_PGA) October 13, 2016
The backstory
The UN Security Council recently unanimously nominated Guterres to replace Ban Ki-moon.
The 72-year-old from South Korea will step down at the end of 2016 after two terms in office.
Guterres was prime minister of Portugal from 1995 to 2002.
He served as UN High Commissioner for Refugees from 2005 to 2015.
The 67-year-old says he will make prevention of conflict a priority, based around the three pillars of UN action: peace and security, sustainable development and human rights.
.un</a> General Assembly endorses Antonio Guterres by acclamation <a href="https://twitter.com/hashtag/NextSG?src=hash">#NextSG</a> - we officially have a new Secretary-General! <a href="https://t.co/xFpgKemWI1">pic.twitter.com/xFpgKemWI1</a></p>&mdash; La France à l&#39;ONU (franceonu) October 13, 2016
Where will António Guterres take the UN</a>? Read his vision statement from April: <a href="https://t.co/CbDDWh3SuT">https://t.co/CbDDWh3SuT</a> <a href="https://twitter.com/hashtag/NextSG?src=hash">#NextSG</a> <a href="https://t.co/qaFgQIxEnM">pic.twitter.com/qaFgQIxEnM</a></p>&mdash; UNOPS (UNOPS) October 13, 2016
What you need to know about Antonio Guterres
Born in Lisbon, 30 April, 1949
Socialist
20 years pre-UN in government and public service
Founded the Portuguese Refugee Council in 1991
Portuguese prime minister 1995-2002
2005-2015 UN High Commissioner for Refugees