Guterres "grateful and humble" for UN nomination
Comments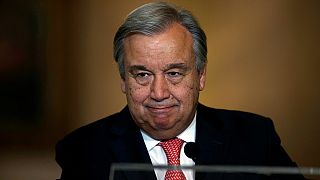 Former Portuguese Prime Minister Antonio Guterres is a step closer to being officially invested as the next Secretary General of the United Nations.
"Humble and grateful"
Speaking live from the Portuguese foreign ministry in Lisbon, Guterres gave his speech in the four languages in which he is fluent: Portuguese, English, French and Spanish.
Thanking the UN and the General Assembly for "a process of transparency and openness", he noted that the UN Security Council had come together with consensus about his candidature and hoped "this represents a symbolic moment, that the UNSC can act in unity and consensus."
Guterres said he was "humbled by the struggles faced in the world by the victims of poverty, injustice and human rights violations".
He also paid tribute to UN personnel working around the world.
He also paid tribute to his predecessor, Ban Ki.moon, and urged UN member states to support him in his work until the end of his mandate as secretary general in December.
Ban Ki-moon phones Antonio Guterres to congratulate him on being nominated by Security Council as #NextSG. "He is a superb choice,"Ban said. pic.twitter.com/y2SBEd2rNl

— UN Spokesperson (@UN_Spokesperson) October 6, 2016
Guterres – how it happened
Wednesday
The 15-member UN Security Council chooses Guterres to stand out of a list of candidates.
Thursday
The UN Security Council unanimously passes a resolution formally recommending him to the organisation's 193-member General Assembly for election as the next leader of the world body.
In the coming days
The 193-member UN General Assembly will hold a vote to officially invest Guterres as Secretary General.
#BREAKING: UN</a> Security Council backs Portugal's Antonio Guterres to be the next UN chief <a href="https://t.co/7Z6BtmmitQ">pic.twitter.com/7Z6BtmmitQ</a></p>&mdash; People&#39;s Daily,China (PDChina) October 6, 2016
Who is Antonio Manuel de Oliveira Guterres?
Born: April 30, 1949 (age 67) in Lisbon, Portugal
Parents:Ilda Cândida de Oliveira, Virgílio Dias Guterres
Spouse:Catarina de Almeida Vaz Pinto (m. 2001), Luísa Amélia Guimarães e Melo (m. 1972)
Children:Pedro Guimarães e Melo Guterres, Mariana Guimarães e Melo de Oliveira Guterres
Party: Socialist Party
1995-2002: Prime minister of Portugal
2005-2015: UN High Commissioner for Refugees
The race to be Secretary General
13 people were nominated in the race to become the next UN Secretary General.
However, three had already withdrawn before Wednesday's secret ballot.
For the first time, the candidates were allowed to make hustings-style speeches to the General Assembly in a bid to create more transparency in the opaque selection process.
What they are saying
"We worked across it together during his long and outstanding service as UN High Commissioner for Refugees. He showed a deep compassion for the millions of people who had been forced from their homes. He worked around the clock to mount effective operations to come to their assistance. His past experience as prime minister of Portugal, his wide knowledge of world affairs and his lively intellect will serve him well in leading the UN through a crucial period," – outgoing UN Secretary General Ban Ki-moon thinks Guterres is a good choice to replace him.