Germany to give extra aid to Chad for Sahel refugees
Comments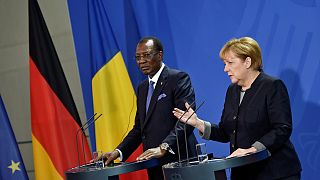 Germany has announced 8.9 million euros worth of extra development aid to Chad, which is currently home to hundreds of thousands of refugees from surrounding war-torn areas in Africa.
It came as President Idriss Deby visited Berlin, the first ever official visit by a Chad president to Germany.
The money will be used to help improve food and water supplies.
"This (extra economic aid) is so important because when you look at where Chad is on the map, you see it is surrounded by conflict zones. Libya in the north, Sudan, the Lake Chad area and the fight against Boko Haram. As a result of this Chad has over 700,000 refugees," Chancellor Merkel said during a joint news conference.
The Chad president said Boko Haram's activities in the Lake Chad area had led to a "humanitarian disaster".
Deby, currently chairman of the African Union, said 90 percent of the refugees travelling through Nigeria also crossed into Chad on their journey north to the Mediterranean – as the Niger route was closed by militant groups.
He also called for more economic investment in the region, to provide more employment opportunities and encourage Africans to stay in their home continent.
To curb an influx of migrants, he said the EU should seek a deal with countries across the desert Sahel region, rather than individual nations.
Merkel, who has said she will make Africa a priority for Germany's G20 presidency next year, noted that EU officials have set up a G5 Sahel strategy that emphasised the need to deal with the countries as a group.
Planting + harvesting together integrates Sudanese #refugees into local communities + boosts women's independence https://t.co/OW3f9n6kdS

— UN Refugee Agency (@Refugees) October 10, 2016