Calls in Germany to honour 'hero' refugees who caught terror suspect
Comments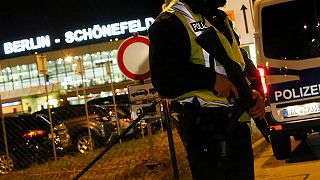 The arrest of a migrant in Germany suspected of planning a major terrorist attack has prompted a campaign for the three Syrian refugees who captured him to be honoured.
No one welcomes Syrians like (Germany)... we respect this country and its people, its government and its laws

Bomb suspect captor
Jaber al-Bakr who was suspected of plotting a bomb attack on a Berlin airport was reportedly found hanged on Wednesday while in police custody.
Police met with little resistance on Sunday night when they moved in to detain him because he had already been tied up by his captors.
After escaping from police surveillance, he had approached the men in Leipzig and asked for shelter, and was taken to the flat.
But the trio recognised him from public appeals.
One of the men, Mohamed A, was interviewed by RTL in Germany. He wore a hood and his face was not shown; the trio have not been identified for fear of reprisals.
"(On Sunday morning) we went swimming and on the way back we discovered from pictures on Facebook that he was the wanted person. When we came back to the apartment, we tied him up and called the police," he said.
The men used an electric cable to tie him up after first overpowering him. They had realised the fellow Syrian they had agreed to help looked like the man police suspected of links to the so-called Islamic State.
They called the police, but speaking only Arabic had trouble making themselves understood. A visit to the police station followed.
"Because I don't speak German it took time to explain to them. In the end I showed them the pictures and they knew what I was on about and they came and arrested him," Mohamed A added.
It was 3 #Syria#refugees in Leipzig who identified, overpowered & delivered wanted #terror suspect to German policehttps://t.co/akXEke9L5B

— Lotte Leicht (@LotteLeicht1) October 11, 2016
There have been calls from politicians and on social media for the three Syrians to be awarded the Federal Cross of Merit, and be granted asylum.
They say they refused to give in to their captive's pleas.
"He tried to bribe us with money for us to release him. We told him we won't let him go it doesn't matter how much he pays," Mohamed A said.
Al-Bakr appeared in court earlier this week.
Police had been looking for the 22-year-old after finding bomb-making equipment in a flat in Chemnitz.
The actions of the Syrians who captured him are being heralded as a rare good news story amid the migration crisis in Germany and Europe. Last year's influx of nearly 900,000 migrants has raised fears about security, especially after some were involved in attacks in July.
"No one welcomes Syrians like this country," Mohamed A said. "We respect this country and its people, its government and its laws. We don't want something like this to happen here."
No, #Germany has not become a different country in the last 48 hours https://t.co/1zbU2iqmfSpic.twitter.com/YRotMBtLd9

— dwnews (@dwnews) 12 October 2016