WHO to send a million doses of cholera vaccine to Haiti
Comments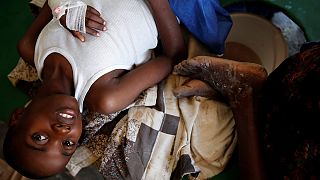 There is much planning about cholera in Jeremie because there is cholera right now in Jeremie

Haitian national police inspector
There is mounting concern in Haiti amid fears of an outbreak of cholera in the wake of Hurricane Matthew.
The death toll from the storm has risen to 1,000. The threat of cholera is widespread throughout the affected areas.
WHO

to send 1,000,000 cholera vaccines
WHO</a> sends 1 mil cholera vaccines to Haiti as UN requests $120 in hurricane relief <a href="https://t.co/FrNqFjdy57">https://t.co/FrNqFjdy57</a></p>&mdash; Steph McKay (stephmckay1) October 11, 2016
The World Health Organisation is sending one million doses of cholera vaccine to Haiti, in the wake of the hurricane.
A spokesperson says safe drinking water and the treatment of those affected by the disease are top priorities.
Aid arrives under armed guard
UN appeals for emergency aid as situation worsens in hurricane-battered Haiti https://t.co/tPRDZsQk6Xpic.twitter.com/f4mTxPyIGN

— Yahoo News (@YahooNews) October 11, 2016
Aid has begun to arrive in Jeremie in the northwest of the country.
Heavily-armed UN MINUSTAH troops are guarding boxes of medical supplies, food and water.
Aid organisations are monitoring the situation.
"For the western part of the southern peninsula, so all the areas like Grand Anse and Le Sud, it is a complete disaster,"said Jean-Luc Poncelet from the World Health Organisation (WHO).
"For those areas, it is really catastrophic. There is another area in the country, in the north, northwest, that is really badly affected on the coastal area too."
"For the rest of the country, the information is really pretty satisfying that everything is back to normal."
Road blocks and looting
As the situation becomes more desperate, there have been reports of road blocks and looting of aid lorries.
The WHO has verified some claims.
"We have indeed had those blockades on the road and we have been able, severalt imes, to discuss with the community to indicate 'those are the supplies to go to the community,'" said Mr Poncelet.
Haiti Flash Appeal: $119M urgently needed to provide immediate life-saving aid to 750,000 people https://t.co/a44RlrvEiM#HurricaneMatthewpic.twitter.com/wkQYVNOZcJ

— United Nations (@UN) October 10, 2016
Cholera
With reports of a cholera outbreak in the southwest of the country, authorities are focusing on getting water, food and medication to the thousands of victims.
Cholera causes severe diarrhea and can kill within hours if untreated.
It is spread through contaminated water and has a short incubation period. This can lead to rapid outbreaks.
The threat of cholera means time is of the essence in providing victims with clean water and medicine.
Worried about cholera? Find out more about the symptoms and treatment here
Consequences of #HurricaneMatthew include an increase in the risk of diseases, including cholera https://t.co/0vKqOjqyuMpic.twitter.com/tPrG0NhaJ1

— United Nations (@UN) October 10, 2016
In numbers
1,000 feared killed in Haiti
336 – official total so far
Haiti population is 10 million
The poorest country in the Americas
1.4 million need aid –

OCHA
Hurricane Matthew
The powerful hurricane was fiercest storm in the Caribbean for a decade.
It slammed into Haiti last Tuesday with 233 kph winds and torrential rains.
Flooding in the southern US
Hundreds of people had to be rescued by boat and helicopter as floodwaters inundated towns in the southern United States in the wake of Hurricane Matthew.
Officials are warning the flooding could last for days.
President Barack Obama declared a state of emergency in North Carolina on Monday.
It means federal funding is available to those affected in 10 counties hit by the storm.
Around 2,000 residents were stranded in and on their homes by floods in the town of Lumberton.
There have been at least 23 fatalities across the region.
An estimated 715,000 homes and businesses were still without power on Monday evening in Florida, Georgia, North and South Carolina and Virginia.
Warnings have also been issued over downed power lines.
In tweets
More water rescues in Lumberton, NC from Hurricane Matthew w/ JimCantore</a> live on <a href="https://twitter.com/weatherchannel">weatherchannelAMHQ</a> <a href="https://twitter.com/SamChampion">SamChampionpic.twitter.com/6Ia6vUGPMj

— Steve Petyerak (@StevePetyerak) October 9, 2016
US death toll from #Matthew climbs to 21 as rescuers save people stranded by flooding. #Lumberton#NC: https://t.co/OxClGhtEVo https://t.co/sSc9vDKabu

— Morning Express (@MorningExp) October 11, 2016
#BREAKING: State trooper shot and killed man in area where rescues were happening in Lumberton Monday night https://t.co/HsO6YPicKm

— The News & Observer (@newsobserver) October 11, 2016
Bermuda
A hurricane watch has now been issued for Bermuda.
The island could be threatened by Nicole – another tropical weather system.
The US National Hurricane Center says it is expected to reach Bermuda later this week.
What they are saying
"The situation in Jeremie is very bad. They have no water, they have no food. They need medicine for treatment. They need good water," – local resident Ronald Lewis.
"We are all working together for the security of the community. There is much planning about cholera in Jeremie because there is cholera right now in Jeremie," – national police inspector Jean Saint Flair.